International Organ Competition
Organ Series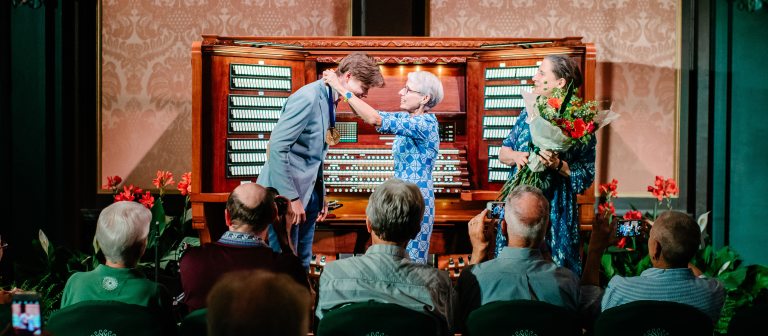 Dates & Times
June 20–24, 2023
Ballroom
---
Preliminary Rounds
Tuesday, June 20
Preliminary Round 1 at 2:00 pm
Preliminary Round 2 at 7:00 pm
Wednesday, June 21
Preliminary Round 3 at 2:00 pm
Preliminary Round 4 at 7:00 pm
Final Round
Saturday, June 24
12:00 pm and 6:00 pm
---
Tickets
Per Preliminary Round:
Reserved Seating: $30
Gardens Preferred, Gardens Premium Members, and Innovators: $25
Final Round
Reserved Seating: $60
Gardens Preferred, Gardens Premium Members, and Innovators: $51
Final Round tickets include both the 12:00 pm & 6:00 pm performance rounds.
---
Ticket includes all-day Gardens Admission. Tickets limited. Sell out likely.
Special Gardens Hours
On Tuesday, June 20, the Gardens will be open to Preliminary Round 1 and 2 ticketholders only, from noon to the end of Preliminary Round 2.
The Garden Shop Hours
The Garden Shop will be open to ticketholders from noon to 7:00 pm on Tuesday, June 20, with extended hours for ticketholders until 7:00 pm on Wednesday, June 21.
Join us for the 2023 Longwood Gardens International Organ Competition featuring organists from around the globe competing for the largest cash prize of any organ competition in the world.
Experience the Preliminary and Final Rounds as 10 bright young talents compete on the Longwood Organ—one of the world's largest Aeolian pipe organs—before a panel of esteemed judges.
The winner will be announced at the conclusion of the Final Round on Saturday, June 24.
Schedule for Preliminary Rounds
Tuesday, June 20, 2023
Competition Preliminary Round 1
2:30 pm—Alexander Straus-Fausto
3:15 pm—Aleksanteri Wallius
4:00 pm—Amelie Held
Competition Preliminary Round 2
7:15 pm—Ashley Wagner
8:00 pm—Arthur Nicolas-Nauche
Wednesday, June 21, 2023
Competition Preliminary Round 3
2:30 pm—Samuel Lee
3:15 pm—Aidan Hill
4:00 pm—Colin MacKnight
Competition Preliminary Round 4
7:15 pm—Bryan Anderson
8:00 pm—Ádám Tabajdi
9:00 pm—Five finalists announced
Buy a Bundle, Save 20%
Purchase a bundle of 3, 4, or 5 Indoor Performance Series concerts and save 20%. This discount can be applied when tickets are purchased directly through our Pick 3, Pick 4, or Pick 5 bundles.
Please note: This discount cannot be combined with any other promo code or Member / Innovator discount.
Organ Competition Dining
Special Dining Hours for Ticketholders
The Café
Tuesday, June 20
Open with limited menu for ticketholders
12:00–7:00 pm
Wednesday, June 21
Extended hours for ticketholders
Open until 7:00 pm
1906
Tuesday, June 20
Closed
Wednesday, June 21
Extended hours for ticketholders
Seating until 5:00 pm
1906 reservations are required and can be made via OpenTable up to 90 days in advance.