Outdoor Christmas Musicians
Holiday Series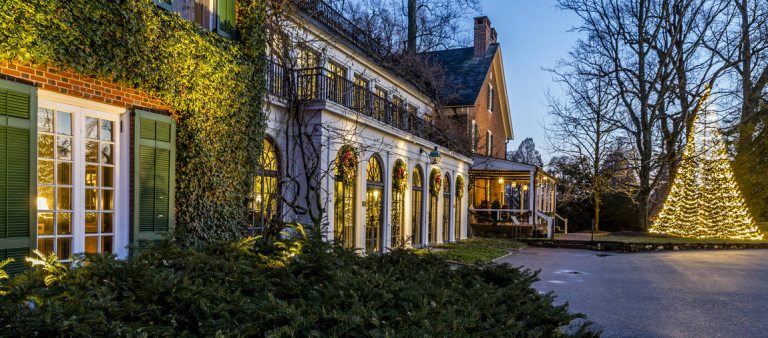 Dates & Price
Select dates and times
Outdoor Gardens and Peirce-du Pont House Plaza
Weather permitting
---
Free with Gardens Admission
Timed Admission Tickets required
Timed Reservations required for Members every day from open to close during A Longwood Christmas
Reservations not required for Gardens Premium Members and Innovators
Enjoy festive holiday music while exploring our dazzling outdoor display.
Revel in the delightful instrumental sounds of the season during A Longwood Christmas.
The Olde Towne Carolers will stroll the outdoor gardens, while Rob Dickenson and the Brandywine Christmas Minstrels and Galena Brass will perform outside the Peirce-du Pont House on the dates and times below.
Please note: Programs are subject to change.
Outdoor Musicians Schedule
Friday, November 25

Olde Towne Carolers
4:30–8:30 pm

Saturday, November 26

Olde Towne Carolers
4:30–8:30 pm

Sunday, November 27

Olde Towne Carolers
4:30–8:30 pm

Rob Dickenson and the Brandywine Christmas Minstrels
5:00–8:00 pm

Thursday, December 1

Olde Towne Carolers
4:30–8:30 pm

Friday, December 2

Olde Towne Carolers
4:30–8:30 pm

Saturday, December 3

Olde Towne Carolers
4:30–8:30 pm

Sunday, December 4

Olde Towne Carolers
4:30–8:30 pm

Rob Dickenson and the Brandywine Christmas Minstrels
5:00–8:00 pm

Thursday, December 8

Olde Towne Carolers
4:30–8:30 pm

Friday, December 9

Olde Towne Carolers
4:30–8:30 pm

Saturday, December 10

Olde Towne Carolers
4:30–8:30 pm

Sunday, December 11

Olde Towne Carolers
4:30–8:30 pm

Rob Dickenson and the Brandywine Christmas Minstrels
5:00–8:00 pm

Thursday, December 15

Olde Towne Carolers
4:30–8:30 pm

Friday, December 16

Olde Towne Carolers
4:30–8:30 pm

Saturday, December 17

Olde Towne Carolers
4:30–8:30 pm

Sunday, December 18

Olde Towne Carolers
4:30–8:30 pm

Monday, December 19

Olde Towne Carolers
4:30–8:30 pm

Tuesday, December 20

Olde Towne Carolers
4:30–8:30 pm

Wednesday, December 21

Olde Towne Carolers
4:30–8:30 pm

Thursday, December 22

Olde Towne Carolers
4:30–8:30 pm

Friday, December 23

Olde Towne Carolers
4:30–8:30 pm

Saturday, December 24

Rob Dickenson and the Brandywine Christmas Minstrels
5:00–8:00 pm

Monday, December 26

Olde Towne Carolers
4:30–8:30 pm

Galena Brass
6:00–9:00 pm

Tuesday, December 27

Olde Towne Carolers
4:30–8:30 pm

Galena Brass
6:00–9:00 pm

Wednesday, December 28

Olde Towne Carolers
4:30–8:30 pm

Galena Brass
6:00–9:00 pm

Thursday, December 29

Olde Towne Carolers
4:30–8:30 pm

Galena Brass
6:00–9:00 pm

Friday, December 30

Olde Towne Carolers
4:30–8:30 pm

Galena Brass
6:00–9:00 pm

Saturday, December 31

Olde Towne Carolers
4:30–8:30 pm

Polkadelphia (Polka Old and New)
East Conservatory Plaza
5:00–9:00 pm

Sunday, January 1

Rob Dickenson and the Brandywine Christmas Minstrels
5:00–8:00 pm
Visit the Gardens Year-Round and Attend this Event for Free
Celebrate the Sounds of the Season throughout our Gardens