It looks like this event has already occurred.
Pennsylvania Native Species Day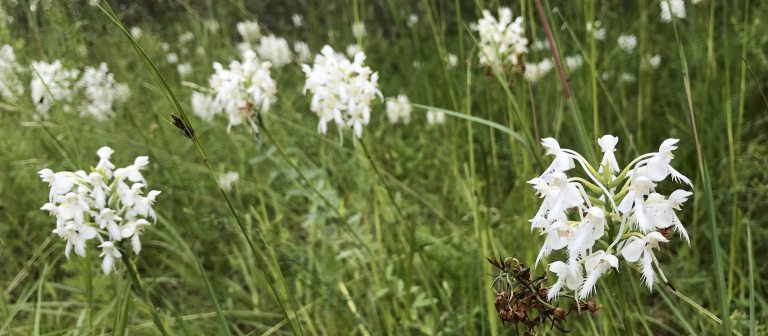 Dates & Price
Saturday, May 20, 2023
---
Free with Gardens Admission
Timed Admission Tickets required
Timed Reservations required for Members after 3:00 pm Thursdays–Saturdays
Reservations not required for Gardens Premium Members and Innovators
We're proudly joining gardens across the state in recognizing the second annual Pennsylvania Native Species Day, which falls on May 18—but we're celebrating on May 20 with a variety of walks and talks.
Established by the Pennsylvania Invasive Species Council in 2022, Pennsylvania Native Species Day seeks to showcase Pennsylvania's native species on land and in water, while highlighting the importance of reducing invasive species to sustain Pennsylvania's biodiverse ecosystem and all that depends on it.
Join us for the following walks and talks, and learn more about how you can use native plants in your own landscape.
Activities and Locations
Meadow Ecology Walk
11:30 am
Meadow Garden: Hourglass Lake Pavilion
Longwood's Meadow Garden is a dynamic ecosystem full of native plant and animal life. Join Associate Director, Land Stewardship and Ecology Dr. Lea Johnson for a talk and short walk in the Meadow Garden to learn about what it takes to keep native meadow communities vibrant—and how to keep invasive species from taking over.
Wildflower Walk
12:30 pm
Meadow Garden Entrance
More than 300 species of wildflowers bloom each year in our Meadow Garden. Join Senior Land Stewardship and Ecology Technician Pandora Young for a wildflower walk in our Meadow and Forest District and learn about the key features that you can use to identify wildflowers in nature and how to distinguish native plants from invasive species.
Using Native Plants in Your Home Garden Walk
1:30 pm
Peirce's Plaza
Thanks to the rich diversity of our local ecosystems, there's a beautiful native plant for almost every soil and light combination you might find in your garden. Join Senior Horticulturist Kari Getchonis for a walk in Peirce's Woods and learn how you can add wildlife-supporting, pollinator-friendly native species to your home garden.
Explore Our Native Ecosystems
12:00–5:00 pm
Hourglass Lake Pavilion and Meadow Garden Entrance
Learn from our knowledgeable staff about the diversity of native plants and animals that inhabit our meadow and forest ecosystems.
Can't join one of our walks? You can find many beautiful native plants in our Meadow Garden, Forest Walk, and Peirce's Woods.
Native Plant Giveaway
12:00-5:00 pm
Visitor Center
Take home a native plant to grow in your home garden. While supplies last.
Join the Conversation
Let everyone know you've participated by using #PANativeSpeciesDay and #PANativePlants on social media.
---
Plantology on Tap: The Beauty and Benefits of Native Species
Thursday, May 18
Longwood at The Creamery
Doors open at 5:00 pm, lecture begins at 6:00 pm
Celebrate Pennsylvania Native Species Day with a look at all things native species! Join Associate Director, Land Stewardship and Ecology Dr. Lea Johnson at The Creamery of Kennett Square for a fascinating discussion on what makes a species native versus non-native versus invasive, why we might prefer native species, and how native species improve so many things about our yards and gardens, from wildlife habitat to water management to beauty throughout the seasons. Leave with top tips for adding native species to your garden, along with a young plant of your own to start your native garden. Enjoy a small bite and cocktail to round out the fun.
Visit the Gardens Year-Round and Attend this Event for Free