It looks like this event has already occurred.
Peter Richard Conte
Organ Series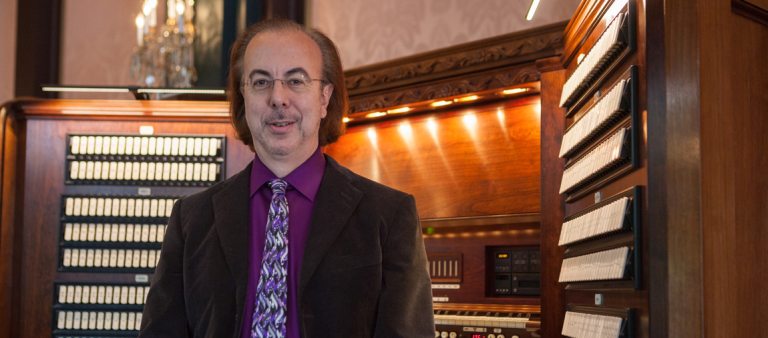 Date & Time
Friday, November 11, 2022 at 8:00 pm
Ballroom
---
Tickets
Reserved Seating: $25
Gardens Preferred, Gardens Premium Members, and Innovators: $21
Ticket includes all-day Gardens Admission. Tickets limited. Sell out likely.
Longwood Gardens Principal Organist Peter Richard Conte showcases the intricacies of the Longwood Organ with Symphonie-Passion, Op. 23 (Dupré) and Conte's transcription for organ of the Suite from Der Rosenkavalier by Richard Strauss.
In 1989, Conte was appointed Wanamaker Grand Court Organist at what is now the Macy's Department Store in downtown Philadelphia—the fourth person to hold that title since the organ first played in 1911. He performs a majority of twice-daily recitals, six days each week, on the largest fully-functioning musical instrument in the world. Conte is also organist-choirmaster of St. Clement's Church, Philadelphia, where he directs a music program firmly rooted in the Anglo-Catholic tradition. He is also a frequent collaborator and soloist with The Philadelphia Orchestra.
Conte is highly regarded as a skillful performer and arranger of organ transcriptions. He has been regularly featured on National Public Radio, ABC television's Good Morning America, and World News Tonight. For 13 years he was heard on The Wanamaker Organ Hour radio show, broadcast via wrti.org. He has been a featured artist at several American Guild of Organists' national and regional conventions and has performed as a soloist with many other orchestras around the country.
Conte has served as adjunct assistant professor of organ at Westminster Choir College, Princeton, NJ, where he taught organ improvisation. He is the 2008 recipient of the Distinguished Alumni Award from the Indiana University School of Music, Bloomington. In 2013, the Philadelphia Music Alliance honored him with a bronze plaque on the Avenue of the Arts' Walk of Fame. His numerous recordings appear on the Gothic, JAV, Pro Organo, Dorian, Raven, and DTR labels. His most recent CD, Virgil Fox Remembered, was released in May 2016 on the Raven label. Conte is represented exclusively in North America by Phillip Truckenbrod Concert Artists, LLC.
Explore the Entire Series
From familiar faces to new artists to discover, our Performance Series showcases the beauty of the performing arts in the beauty of our Gardens.
Buy a Bundle, Save 20%
Purchase a bundle of 3, 4, or 5 concerts and save 20%. This discount can be applied when tickets are purchased directly through our Pick 3, Pick 4, or Pick 5 bundles.
Please note: This discount cannot be combined with any other promo code or Member / Innovator discount.