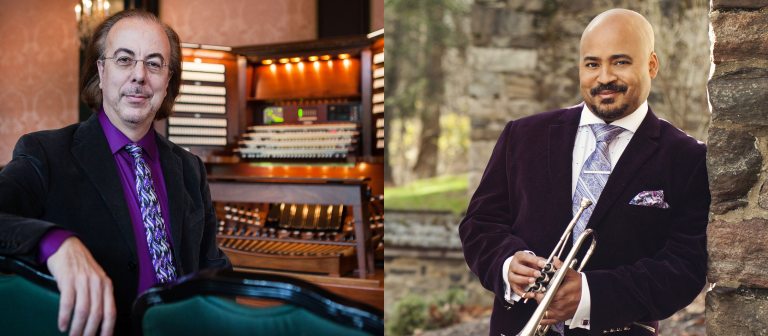 Longwood Gardens Principal Organist and Wanamaker Grand Court Organist Peter Richard Conte and famed trumpeter Rodney Marsalis pair up for a masterful duet of organ and trumpet, including Concerto for Trumpet (Harry James), Bach's Trumpet & Organ Concerto in D major from Vivaldi's RV 230, Carnival of Venice, and more.
Peter Richard Conte - Organ
In 1989, Peter Richard Conte was appointed Wanamaker Grand Court Organist at what is now the Macy's Department Store in downtown Philadelphia—the fourth person to hold that title since the organ first played in 1911. He performs a majority of twice-daily recitals, six days each week, on the largest fully functioning musical instrument in the world. Conte is also principal organist of Longwood Gardens, and organist-choirmaster of St. Clement's Church, Philadelphia, where he directs a music program firmly rooted in the Anglo-Catholic tradition. He is also a frequent collaborator and soloist with The Philadelphia Orchestra.
Conte is highly regarded as a skillful performer and arranger of organ transcriptions. He has been regularly featured on National Public Radio, ABC television's Good Morning America, and World News Tonight. For 13 years he was heard on The Wanamaker Organ Hour radio show, broadcast via wrti.org. He has been a featured artist at several American Guild of Organists' national and regional conventions and has performed as a soloist with many other orchestras around the country.
Conte has served as adjunct assistant professor of organ at Westminster Choir College, Princeton, NJ, where he taught organ improvisation. He is the 2008 recipient of the Distinguished Alumni Award from the Indiana University School of Music, Bloomington. In 2013, the Philadelphia Music Alliance honored him with a bronze plaque on the Avenue of the Arts' Walk of Fame. His numerous recordings appear on the Gothic, JAV, Pro Organo, Dorian, Raven, and DTR labels. His most recent CD, Virgil Fox Remembered, was released in May 2016 on the Raven label. Conte is represented exclusively in North America by Phillip Truckenbrod Concert Artists, LLC.
Rodney Marsalis - Trumpet
The sound of Rodney Marsalis's trumpet has reverberated throughout the world. Whether playing baroque piccolo trumpet or interpreting works commissioned especially for him, his artistry has been enthusiastically enjoyed inside of the United States and in such countries as France, Spain, Germany, England, Greece, Romania, Japan, Taiwan, and Korea. He has been praised by music critics from Fanfare magazine, American Record Guide, Records International Catalog, and other international publications for his evocative interpretation, impeccable virtuosity, and beauty of sound.
Marsalis was born in New Orleans, Louisiana where he began his musical studies at the age of six. When he was 11 years of age, he began taking classical trumpet lessons with his cousin, Wynton Marsalis. Referred to as a "trumpet prodigy", his solo debut was at the age of 15 with the New Orleans Symphony. After having won various solo competitions, he received national attention at the age of 19 performing as soloist with the Boston Pops Orchestra. He has also performed as soloist with the San Diego Symphony, the Tenerife Symphony, the Orquestra Sinfonica de Barcelona i Nacional de Catalunya, The Chamber Orchestra of Philadelphia, and many orchestras throughout the United States and Europe.
A graduate of the Curtis Institute of Music, Marsalis has worked under the guidance of world renowned conductors such as Leonard Bernstein, Michael Tilson Thomas, Gerard Schwarz, James DePreist, John Williams, Jesus Lopez-Cobos, and Christopher Hogwood. He was awarded a fellowship at the Tanglewood Music Center, where he was invited to return for a second summer—during which he was awarded the Seiji Ozawa Award for Outstanding Musicianship.
Marsalis has made several world premiere recordings including Sonata for Trumpet and Piano (Albany Records) by Adolphus Hailstork and In Our Own House (Albany Records) by composer Alvin Singleton with saxophonist Branford Marsalis. In 1998 he made the premiere and critically acclaimed recording of Franz Waxman's Carmen Fantasy for Trumpet and Orchestra with conductor Lawrence Foster on the Koch International record label.
Rodney's debut solo trumpet CD, Spirit of the Trumpeter (Albany Records), a compilation of some of the most popular recital works for trumpet and piano, has been dubbed a best seller.
In the course of his more than 20 years as an orchestral musician, Marsalis was the winner of several national and international competitions for titled orchestral chairs including positions with The New Orleans Symphony, The Colorado Symphony Orchestra, The San Diego Symphony Orchestra, The Orquestra Sinfonica de Tenerife, The Barcelona Symphony, and The Richmond Symphony. He was awarded the Principal Trumpet position with the Chamber Orchestra of Philadelphia. During his tenure as Principal Trumpet with the Barcelona Symphony Orchestra Marsalis was appointed head of the trumpet department at the Escuela Superior de Musica de Catalunya Spain's leading music conservatory. He has recently been invited to give master classes at the Juilliard School, The North Carolina School for the Arts, the National Trumpet Competition, and the International Trumpet Guild Conference. He has also been invited to teach at the Eastern Music Festival and the Interlochen Music Academy.