It looks like this event has already occurred.
Trombone Shorty & Orleans Avenue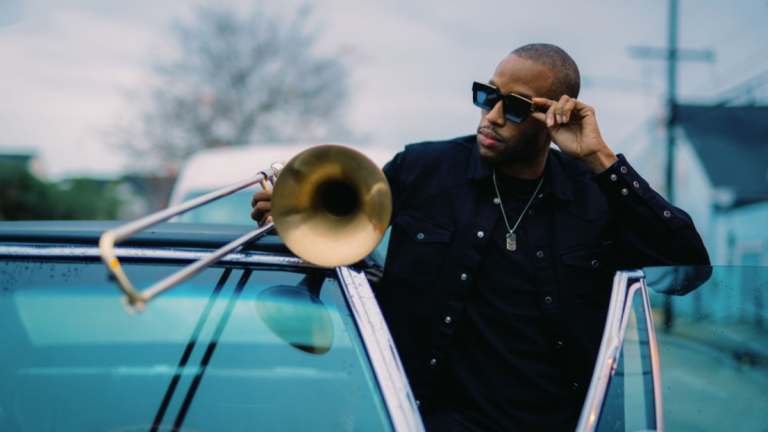 Date & Time
Wednesday, August 24, 2022 at 7:30 pm
Open Air Theatre
---
Reserved Seating: $45-$65
Gardens Preferred, Gardens Premium Members, and Innovators: $40-$60*
Sold out
---
Ticket includes all-day Gardens Admission
---
Tickets limited. Sell out likely 
Fresh off his 2022 Grammy win and the April 2022 release of his new album Lifted, trombonist, musician, and New Orleans icon Trombone Shorty (born Troy Andrews) got his start earlier than most, performing at Jazz Fest with Bo Diddley at age four, leading his own brass band at six, and as a teenager hired by Lenny Kravitz for his Electric Church World Tour. He's since released four chart-topping studio albums; collaborated across genres with Pharrell and Bruno Mars to Ringo Star and Foo Fighters; and played Coachella, Bonnaroo, Lollapalooza, Newport Folk, and Newport Jazz. With Lifted, Shorty and his bandmates tap into the raw power and exhilarating grooves of their legendary live show, channeling it all into a series of tight, explosive performances that blur the lines between funk, soul, R&B, and psychedelic rock.
More about Trombone Shorty
If anybody knows their way around a festival, it's Trombone Shorty. Shorty's proven he's more than just a horn player, though. Catch a gig, open the pages of The New York Times or Vanity Fair, flip on any late-night TV show and you'll see an undeniable star with utterly magnetic charisma, a natural born showman who can command an audience with the best of them. 
Since 2010, he's toured with everyone from Jeff Beck to the Red Hot Chili Peppers; performed four times at the Grammy Awards, five times at the White House, on dozens of TV shows, and at the star-studded Sesame Street Gala, where he was honored with his own Muppet; launched the Trombone Shorty Foundation to support youth music education; and received the prestigious Caldecott Honor for his first children's book. 
Meanwhile in New Orleans, Shorty now leads his own Mardi Gras parade atop a giant float crafted in his likeness; hosts the annual Voodoo Threauxdown shows that have drawn guests including Usher, Nick Jonas, Dierks Bentley, Andra Day, and Leon Bridges to sit in with his band; and has taken over the New Orleans Jazz & Heritage Festival's hallowed final set, which has seen him closing out the internationally renowned gathering after performances by the likes of Neil Young, the Black Keys, and Kings of Leon.
*Gardens Preferred, Gardens Premium Members, and Innovators receive access to the Pre-sale. If you are eligible, you have received a discount code via direct mail or email from Longwood Gardens that can be used for Pre-sale access and to receive your discounted pricing.
Pre-Concert Dining
Dine with us during extended evening hours.
---
The Café
5:00–7:30 pm
No reservations necessary
---
1906
Sold Out
Become a Part of the Gardens
Experience exquisite Gardens that elevate the art of horticulture, performances that inspire, and programs that enlighten, all amid the relaxing beauty of Longwood.