It looks like this event has already occurred.
Velocity Irish Dance
A World of Music Series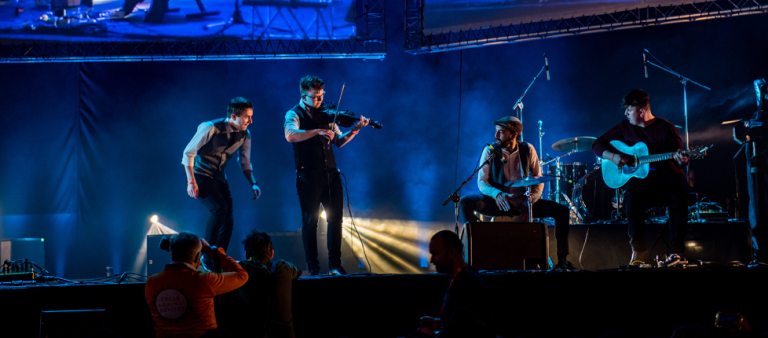 Date & Price
Thursday, March 10, 2022 at 8:00 pm
Exhibition Hall
---
Reserved Seating: $40
Gardens Preferred, Gardens Premium Members, and Innovators: $34*
Sold Out
---
Ticket includes all-day Gardens Admission
Ticketholders are required to show proof of vaccination or a negative COVID-19 test result (within 48 hours of show date), and wear a mask in the venue and through the duration of the performance. Please bring documentation with you.
Masks are not required throughout the Gardens, only in the performance venue.
Longwood Debut
Led by five-time World Champion Irish dancer David Geaney and 2013 Senior Men's World Irish Dance Champion Tyler Schwartz—and joined by a motley crew of mind-blowing musicians and an old-school scratch DJ—Velocity is the next generation in Irish tap. Honoring past traditions but blasting them feet-first into the 21st century, Velocity breaks away from the idea of what an Irish dance show is ... to one that is expressive, free, fast-paced, and edgy, driven by passion and pride.
See Velocity Irish Dance
More about Velocity Irish Dance
Two illustrious Irish hoofers come together in an intimate, no-nonsense jam session of impossible scuffles, shuffles, and every time step in between in this high-octane celebration of the past, present, and future of Irish dance.
The principal lead dancer in more than 10 professional touring productions, Tyler Schwartz is the world record holder of multiple Irish dance records, as well as the 2017 Man of the Year for Irish Dancing Magazine.  
David Geaney, from a town called Dingle in the southwest of Ireland, is a 24-year-old dancer who regularly works in his family-owned bar, the Dingle Pub, but his main passion is dance. After being told he was too young for football and watching his older sister Susie win a medal at a local dance competition, Geaney decided he wanted a medal too—and began dancing! After dancing for nearly 20 years, not much has changed, but he does have five World Championship titles to his name and several TV appearances, including the finals of Britain's Got Talent, under his belt!
Find out more on their website. 
*Gardens Preferred, Gardens Premium Members, and Innovators receive access to the Pre-sale. If you are eligible, you have received a discount code and Pre-sale access code via direct mail or email from Longwood Gardens.
COVID-19
Beginning January 23, masks and proof of vaccination (government issued card, a photocopy or photograph of the government issued card, or a vaccine verification app) or a negative COVID-19 test result (within 48 hours of the show date) are required for all indoor performance ticketholders. Ensure you bring the required documentation with you as we will not make any exceptions. After we scan your concert ticket, we will check your vaccination card or negative test result and issue your event wristband allowing you admittance to the venue. Masks are not required throughout the Gardens, only in the concert venue and for the duration of the performance. Please be sure to share this information with all members of your party.
We thank you for your understanding, cooperation, and patience as we all continue to navigate the fluctuations of COVID-19. We look forward to seeing you in the Gardens soon.
Please note, per Pennsylvania's lifting of pandemic restrictions, indoor concerts will be at full capacity and social distancing will not be in place.
Become a Part of the Gardens
Experience exquisite Gardens that elevate the art of horticulture, performances that inspire, and programs that enlighten, all amid the relaxing beauty of Longwood.
Buy a Bundle, Save 20%
Purchase a bundle of 3, 4, or 5 concerts and save 20%. This discount can be applied when tickets are purchased directly through our Pick 3, Pick 4, or Pick 5 bundles.
Please note: This discount cannot be combined with any other promo code or Member / Innovator discount.