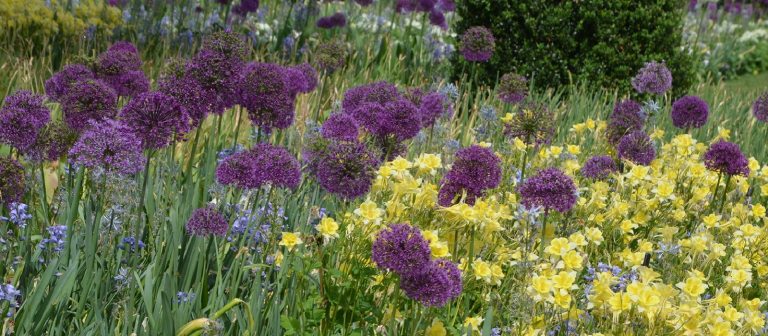 Join highly acclaimed UK garden designer Jo Thompson as she draws on her latest book, The Gardener's Palette, to share an entirely new way for home gardeners to confidently incorporate color at home.
Working with color charts and using them almost as paint swatches, Thompson offers 100 evocative and fresh palettes, pairs them with images of her own and other designers' work, and breaks them down with charts showing the exact plants used. Participants in the walk will have additional time to explore the Gardens with these topics in mind and speak with Jo about her personal strategies and preferences.
Thompson has won four Gold and five Silver Gilt medals at the Chelsea Flower Show, as well as the coveted People's Choice Award at the first RHS Chatsworth Show. Her current design projects include the regeneration of the historic walled gardens at Water Lane in Kent, the planting surrounding a 16th century house in Sussex, a roof garden in Rome, and a naturalistic garden in Connecticut; recent restoration projects include the planting strategy at Highgate Cemetery in London with Gustafson Porter + Bowman, and a secret garden in Venice.
Course Schedule
Saturday, March 25, 2023
Walk Through the Gardens
10:30 am–12:00 pm
Lecture
1:00–2:00 pm
Location
In Longwood's Visitor Center Auditorium and throughout the Gardens. 
This program will take place both indoors and outdoors. Please dress for the weather and wear footwear suited for walking on uneven paths and through wet areas.
Instructor
Jo Thompson