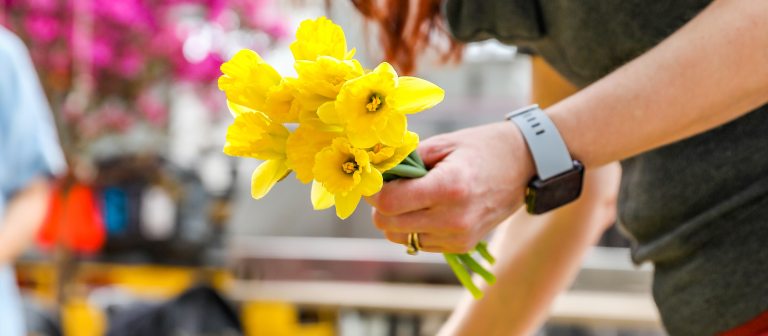 During this online workshop, enhance the skills developed in Floral Design 1 through online content, and create arrangements that focus on dominance, contrast, proportion, scale, balance, texture, and pattern.
After the live-stream orientation, explore online content on your own schedule on topics that include the Biedermeier style and formal linear arrangements, topiary techniques, hand-tied bouquets, and corsage making. Advance your floral design development with further studies in the care and handling of tropical flowers. Stir your creative spirit and broaden your skills with the use of cutting tools, a variety of containers, sustainable design strategies, and gorgeous floral materials through a series of online presentations and video tutorials.
Practice what you've learned, using either materials you source yourself or three shipments delivered to your home and containing all the supplies (excluding containers) and flowers needed to make the arrangements demonstrated in the online class. Create your arrangements, upload three images (front, side, and back views) or a video of each final work, and receive personalized feedback on your designs from expert instructor Cres Motzi. The learning continues with two online, interactive sessions during which Motzi provides advice on how to improve your designs and bring your floristry to the next level.
Same comprehensive content … new names! We're changing—and streamlining—our floral design course names to better communicate all our floral design options available to you. Please refer to the Certificate of Merit in Floral Design webpage for more information.
Certificate Information
This online course meets one of the core requirements of Longwood Gardens' Certificate in Floral Design.
Course Schedule
Live-streamed Orientation
September 18, 2023
4:00–5:30 pm
Live-streamed Critique #1
October 9, 2023
4:00–5:30 pm
Live-streamed Critique #2
October 23, 2023
4:00–5:30 pm
Online content remains available for six months after the course end date.
Location
Online, with self-paced content and 3 live-streamed sessions
Instructor
Cres Motzi
Materials
If you choose to supply your own materials, click here to view the list of materials needed. Shipping of design material is limited to the continental United States.