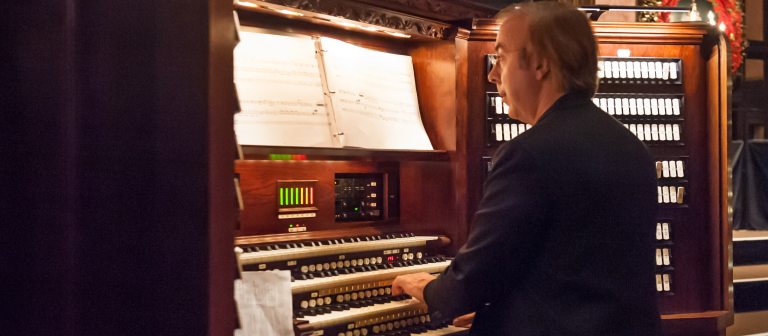 Spend the day listening to two of the finest organs in Philadelphia.
Depart from Longwood and enjoy private guided tours as you travel from location to location in a tour bus. Our first stop will be the Grand Court of Macy's Philadelphia department store. Experience a private tour of the Wanamaker Organ, which was built for the 1904 Saint Louis World's Fair and was the largest organ ever built at the time. After the tour, enjoy a concert performed by Longwood Gardens Principal Organist and Wanamaker Grand Court Organist Peter Richard Conte. Lunch is on your own in Center City, Philadelphia.
After lunch, we will visit Saint Mark's Church which was founded in the mid-19th century as part of the Oxford Movement revival. Enjoy an exclusive tour of the church's Opus 948 Aeolian-Skinner Organ, one of the hidden gems of Philadelphia. This magnificent instrument is one of historic and artistic significance, built by one of the finest firms during a great age of American organ building. A demonstration of the organ will be conducted by the church's Principal Organist Robert McCormick.
Schedule
9:00 am: Meet at Longwood Gardens Visitor Center (enter at the Group Visits area of the Visitor Center)
9:15 am: Bus departs for Macy's Philadelphia
10:30 am: Arrive at Macy's Philadelphia; tour of the Wanamaker Organ pipes
12:00 pm: Concert performed by Peter Richard Conte (while standing; chairs not available)
1:00 pm: Lunch on your own
2:45 pm: Bus departs for Saint Mark's Church
3:00 pm: Arrive at Saint Mark's Church; tour of the Saint Mark's Church Organ pipes and organ demonstration
4:30 pm: Bus departs for Longwood Gardens
6:00 pm: Arrive at Longwood Gardens
Please note: The tour bus is handicap accessible, but there will be walking required throughout the day. Participants must meet at Longwood and ride the bus throughout the duration of the organ crawl.