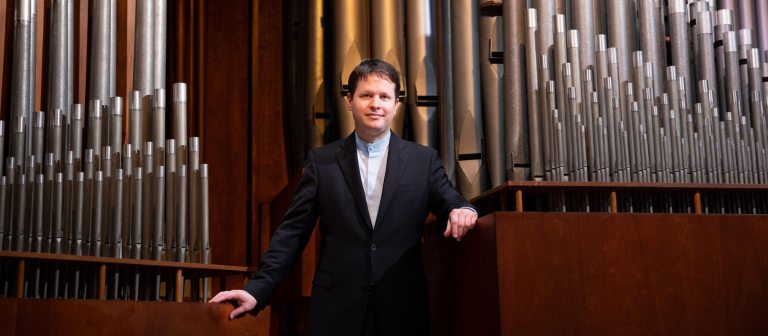 Internationally celebrated organist Paul Jacobs combines a probing intellect and extraordinary technical mastery with an unusually large repertoire, both old and new.
Program
Handel: Organ Concerto in F Major, Op 4, No. 5
Franck: Prelude, Fugue, and Variation, Op. 18
Buck: Concert Variations on The Star-Spangled Banner, Op. 23
Bach: Arioso from Cantata, BWV 156
Guilmant: Sonata No. 1 in D Minor, Op. 42
The only organist ever to have won a Grammy Award—in 2011 for Messiaen's towering Livre du Saint-Sacrément—and the chairman of The Julliard School's organ department, Jacobs is an eloquent champion of his instrument, as well as a pioneer in the movement for the revival of symphonic music featuring the organ.
Heralded as "one of the major musicians of our time" by Alex Ross of The New Yorker and as "America's leading organ performer" by The Economist, Paul Jacobs has performed to great critical acclaim on five continents and in each of the 50 states. 
Jacobs has transfixed audiences, colleagues, and critics alike with landmark performances of the complete works for solo organ by J.S. Bach and Messiaen. He made musical history at age 23 when he gave an 18-hour marathon performance of Bach's complete organ works on the 250th anniversary of the composer's death. A fierce advocate of new music, Jacobs has premiered works by Samuel Adler, Mason Bates, Michael Daugherty, Bernd Richard Deutsch, John Harbison, Wayne Oquin, Stephen Paulus, Christopher Theofanidis, and Christopher Rouse, among others. As a teacher he has been a vocal proponent of the redeeming nature of traditional and contemporary classical music.
No other organist is repeatedly invited as soloist to perform with prestigious orchestras. Jacobs regularly appears with the Chicago Symphony, Cincinnati Symphony, Cleveland Orchestra, Edmonton Symphony, Indianapolis Symphony, Kansas City Symphony, Los Angeles Philharmonic, Lucerne Symphony Orchestra, Minnesota Orchestra, Montreal Symphony, Nashville Symphony, National Symphony Orchestra, Pacific Symphony, Phoenix Symphony, Philadelphia Orchestra, San Francisco Symphony, Toledo Symphony, and Utah Symphony, among others.
During the 2020-21 season Jacobs performed with the Philadelphia Orchestra led by Yannick Nezet-Seguin for their digital streaming series including the Poulenc Organ Concerto, as well as chamber versions of Mahler's Symphony No. 4 and Das Lied von der Erde; with the Cleveland Orchestra and Franz Welser-Most for the Poulenc Concerto, and the Jackson (TN) Symphony. He appeared in recitals with the Madison Symphony, Northrop Auditorium at the University of Minnesota, and in Sun City, AZ.
Jacobs studied at the Curtis Institute of Music, double-majoring with John Weaver for organ and Lionel Party for harpsichord, and at Yale University with Thomas Murray. He joined the faculty of The Juilliard School in 2003, and was named chairman of the organ department in 2004, one of the youngest faculty appointees in the school's history. He received Juilliard's prestigious William Schuman Scholar's Chair in 2007. In addition to his concert and teaching appearances, Jacobs is a frequent performer at festivals across the world, and has appeared on American Public Media's Performance Today, Pipedreams, and Saint Paul Sunday, as well as NPR's Morning Edition, ABC-TV's World News Tonight, and BBC Radio 3. In 2017 he received an honorary doctorate from Washington and Jefferson College.