Hypertufa Trough Workshop
In-Person Horticulture and Gardening Class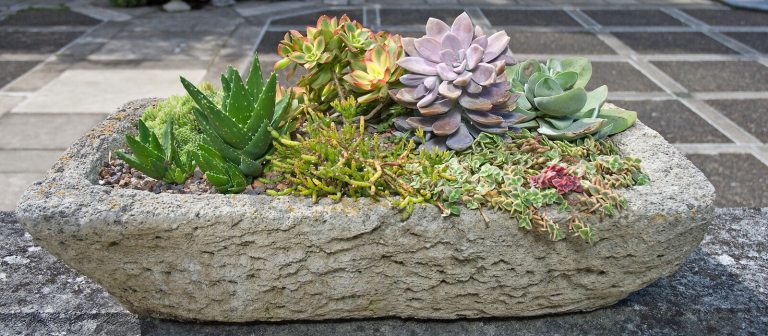 Dates & Price
Saturday, May 20, 2023
10:00 am–12:00 pm
---
Fee: $99
Fee for Innovators, Gardens Preferred, and Gardens Premium Members: $89
---
Registrations may be cancelled up to two weeks before the event, and your registration fee, less a $30 processing fee, will be refunded.
To notify us of your cancellation, email us or call 610-388-5454.
Register by Sunday, May 14, 2023
In this delightfully messy class, participants will learn basic mixing, molding, and finishing techniques to make a lightweight, porous, weatherproof container from hypertufa—a mixture of Portland cement, perlite, and peat moss that mimics tufa, a naturally porous rock not locally available.
Your finished trough container will support year-round outdoor planting, and can be home to a prized specimen or an entire miniature landscape. Plants requiring sharp drainage such as succulents and cacti will happily inhabit such troughs.  
You'll leave class with a newfound appreciation for the material, as well as a finished container for your plantings! 
Location
The Production Nursery Greenhouse at Longwood Gardens
Instructor
Louise Clarke  
Materials
Step-by-step instruction will be provided, as well as finishing tips for your cured trough. Wear old clothes that you won't mind getting dirty; an apron may be useful.  
Innovators, Gardens Preferred, and Gardens Premium Members save on Continuing Education Courses
A 10% discount on classes will be applied automatically at the time of checkout.