Pierre du Pont's love for fountains stretched back to when he was mesmerized at the age of six by the huge display of water pumps at the 1876 Centennial Exposition in Philadelphia. With his indoor Conservatory now a reality, Pierre turned his full attention outdoors, where Longwood's hydraulic splendors were already underway. Never mind that the property didn't have an abundant water supply; with electricity, anything was possible.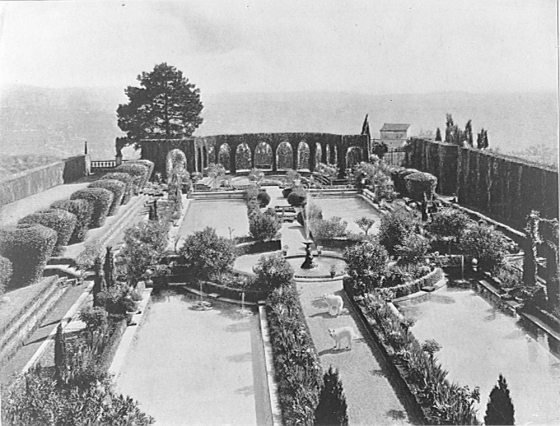 From 1925 to 1927, Pierre constructed  a Water Garden in a low-lying, marshy site northeast of Longwood's Large Lake. The inspiration was the Villa Gamberaia, near Florence, Italy. The original did not have many fountains, but Longwood's version had 600 jets in nine separate displays that shot from six blue-tiled pools and 12 pedestal basins.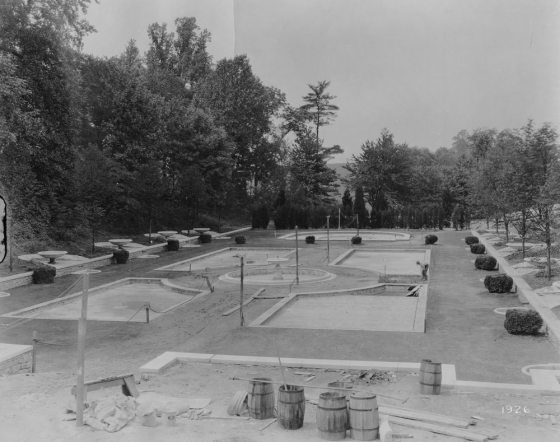 At the same time, Pierre installed a 40-foot tall jet fountain at the end of the central allée in Peirce's Park. It is said that Mrs. du Pont could turn the fountain on for her house guests with a switch. Pierre next decided to enlarge the Open Air Theatre and replace the old waterworks with 750 illuminated jets that continue to elicit thrills today.
Pierre's hydraulic masterpiece was the Main Fountain Garden in front of the Conservatory: 10,000 gallons a minute shot as high as 130 feet and illuminated in every imaginable color. Its complex engineering didn't faze him. "The fountains themselves are of simple design...," he noted. "It is the landscape effect that adds to the total bill."
The completion of the fountains in the mid-1930s marked an end to major construction during Pierre's lifetime, although he did build a 30-by-36-foot oval analemmatic sundial in what is now the Topiary Garden in the late 1930s.
In 1929-30, Pierre  constructed Longwood's 61-foot-tall stone Chimes Tower based on a similar structure he had seen in France. In 1956, the original chimes were replaced with a 32-note electronic carillon. In 2000, a new 62-bell carillon was crafted in The Netherlands.
The Longwood Steinway Grand Piano was purchased by Pierre du Pont from Steinway and Sons in 1923. Du Pont was an amateur pianist and had a great love of music and all the performing arts. He wanted the world's most finely crafted instrument that he, his family, friends, and visiting artists could use to play music of the highest quality sound.
Located in the Ballroom, Pierre S. du Pont constructed the largest residence organ in the world—Longwood's 10,010 pipe Aeolian organ, in 1930. These resident instruments remain cornerstones of Longwood's performing arts programming, which presents world-class artists in unparalleled settings.