The most successful gardens are always in motion and Longwood is no exception; yet while the Gardens have evolved as an organization, the founding spirit of change, innovation, and excellence remains untouched. In 2008, Longwood embarked upon an extensive planning process to define our mission, vision, and brand, as well as short- and long-term strategies and a Visionary Master Plan, with the ultimate goal of becoming one of the world's greatest gardens.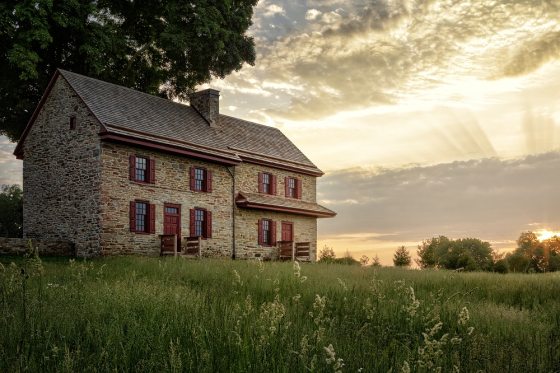 Perhaps nothing quite embodies the history of the land and the promise of the future as Longwood's Meadow Garden, which opened to the public in June 2014. This new garden uses principles of ecological landscape design and locally sustainable practices to help "preserve the open spaces, valleys, and woodlands surrounding the formal Gardens." Visitors to the 18th-century Webb Farmhouse can explore the story of the land and those who once lived there, as well as the seasonal ecology of the Meadow as it exists today.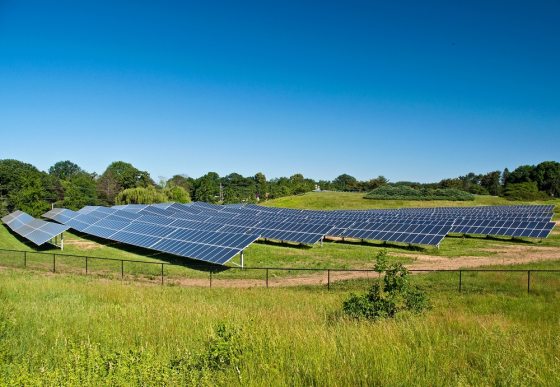 Additional projects have included three "tree houses" that opened to the delight of guests young and old in 2008. The outdoor East Conservatory Plaza, which opened in 2010, is a crisp, bold landform of curved turf steps; indoors, the largest Green Wall in North America houses 17 beautifully private restrooms. In 2011, Longwood turned to "green" energy, purchasing power only from hydroelectric sources and, most importantly, from an onsite, 10-acre solar field with 6,682 solar panels that generate enough electricity to reduce midday demand on the energy grid by more than 50 percent.
In 2014, Longwood embarked on the expansive rebuild of the Main Fountain Garden. The project involved adding 1,400 feet of new tunnels to provide access to all utilities, plumbing, and wiring; 30 geothermal wells to provide pumphouse temperature and humidity control; and 68 display and filtration pumps in four pump rooms, while the historic Pumphouse with its 1930s equipment was transformed into a permanent museum exhibit.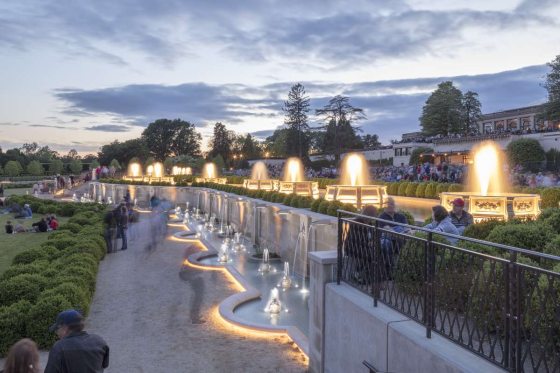 Legacy nozzles were retained and new robotic ones added for an array of fountain effects that also include water "cannons," a unique basketweave, and flame jets, while new LED fixtures cast light ranging from a warm white glow to a saturated rainbow of color.
More than 68,000 hours were spent to conserve the historic stonework, while the most exciting architectural feature was a new Grotto behind the restored Loggia in the center of the Pumphouse Façade. A U-shaped linden allée (replacing the original Norway maples) and a monumental planting of boxwood make the view of the garden, which reopened in 2017, much like the original.
In February 2021, Longwood announced Longwood Reimagined: A New Garden Experience—the most ambitious expansion, reimagination, and preservation of the Conservatory and surrounding landscape in a century. This sweeping reimagination of 17 acres of the Conservatory and grounds—opening in fall 2024—will result in stunning new buildings, wondrous new indoor and outdoor gardens, surprising new guest experiences, and much more.
After meticulous restoration and an innovative transformation, the new Orchid House opened in February 2022, serving as the first realization of Longwood Reimagined. Transformed into an open, gallery-like space—boasting a new glass roof to restored interior and exterior concrete—the Orchid House provides an immersive orchid-viewing experience like never before. Hundreds of orchids displayed in custom frame trellises and the restored bronze case showcase the beauty and diversity of Longwood's renowned orchid collection, as well as sheds light on Longwood's dedication to saving endangered orchid species both near and far. The future of Longwood is both bright and challenging, and always inspired by a redefined and evolving vision conceived by Pierre S. du Pont. Facility maintenance never ceases. Energy issues are critical. Advancing excellence in garden design, horticulture, education, and the arts is paramount.
For decades Longwood Gardens has been a revered horticultural display, but recent growth of programs, attendance, budget, and accomplishments have pushed it to the forefront of American cultural institutions. What will there be to celebrate in the years ahead? Impossible to know, but with Longwood's unparalleled ambition and commitment to diverse experiences, the future is undoubtedly one of beauty.