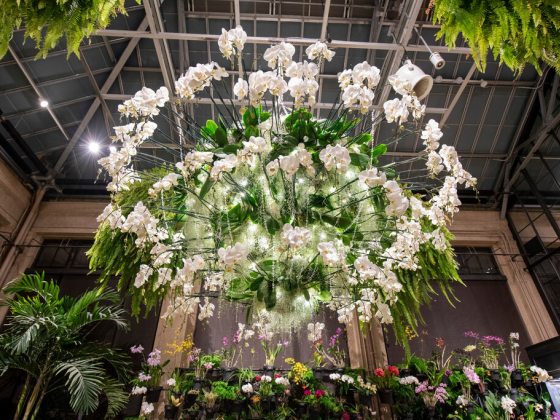 See what's in bloom … and enjoy the beauty of our Gardens.
to
Amaryllis

Hippeastrum ′Denver′

An easy-to-grow bulb which blooms about 6 weeks after planting, amaryllis are a sign of the season. Native to tropical America, their long stems and large, long-lasting flowers are a stand out in our Christmas display.

Copper Beech

Fagus sylvatica f. purpurea

A row of mature purple-leaved European beeches welcome our visitors enroute to the conservatory.
Pierre S. du Pont directed the creation of the beech allee in 1951, when copper beeches were chosen to replace sugar maples along the original driveway to the farmhouse. The grandeur of the beeches reflected the shift from a farm to a more formal public garden. The archival picture shows these trees were already huge specimens, transplanted by manpower in action with minimal damage to root structures. Some of the trees were already on the property and moved from Oak Knoll and the former nursery that was located in the current picnic area. Others were moved from an estate on the Main Line outside Philadelphia. Originally a single row of copper beeches was planted on the south side of the drive, but eventually Mr. du Pont wanted a double row for a true allee.


Dusty-miller

Senecio cineraria ′Silver Dust′

Harry Lauder's Walking Stick

Corylus avellana 'Contorta'

Kalanchoe

Kalanchoe blossfeldiana

Deodar Cedar

Cedrus deodara 'Bush's Electra'

Anthurium

Anthurium ′Anthfytwal′ Livium (Andreanum Group)

Weeping Norway Spruce

Picea abies (Pendula Group)

Brazilian Candles

Pavonia multiflora

Holly Osmanthus

Osmanthus heterophyllus 'Goshiki'

Poinsettia

Euphorbia pulcherrima unknown cultivar Norwin Orange

Neoregelia

Neoregelia ′Purple Passion′

Dumb-cane

Dieffenbachia 'Panther'

Coral-bark Willow

Salix alba ′Britzensis′

Calamondin

Citrus × microcarpa 'Variegata'

Japanese Camellia

Camellia japonica ′Margaret Ratcliffe′

Silver Dollar Gum

Eucalyptus cinerea

Scarlet-plume

Euphorbia fulgens ′Algevo′

Rattlesnake Calathea

Goeppertia insignis

Orchid Chandelier

Phalaenopsis Sogo Yukidian ′V3′

Orchids, one of the most popular flowering potted plants sold in the United States, are easy to find commercially in retail stores. However, during A Longwood Christmas, staff members use them to create innovative and creative displays, such as this orchid chandelier. By far, the most popular orchid genus is Phalaenopsis, or the moth orchid, because of the ease and speed at which they grow and because of their reliable flowering and long bloom duration.