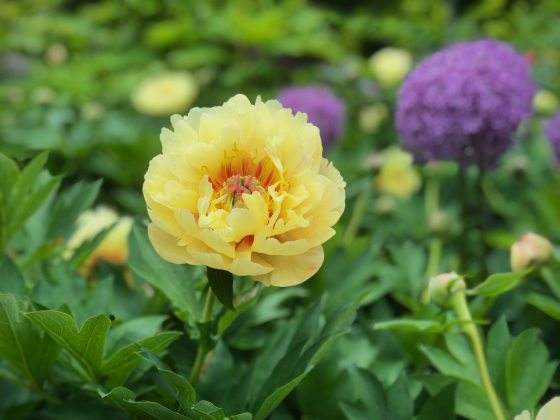 See what's in bloom … and enjoy the beauty of our Gardens.
to
Large-flowered Climber Rose

Rosa ′Direktor Benschop′ City of York

This old-fashioned, climbing rose is the oldest rose growing in our formal Rose Garden, which was first planted by our founder, Pierre S. du Pont, in 1938. ′Direktor Benschop′, also known as City of York, has a semi-double, fragrant white flower that blooms profusely in early June and then sporadically throughout the season. It is also known to have dark green glossy foliage, and grows well in full sun and well-drained soil.

Japanese Flowering Dogwood

Cornus kousa

Cornus kousa, commonly known as Japanese flowering dogwood, is native to eastern Asia. This tree delights in all four seasons. In late spring, after the foliage has emerged, it has an abundance of creamy white bracts which are long lasting. Flowers are followed by bright, red fruit that is a compound berry about one inch in diameter and resembles a raspberry. These fruits are edible and a sweet and delicious addition to the tree's ornamental value. The deep red fall foliage and the stunning exfoliated bark give fall and winter interest. Cornus kousa is slower growing and later blooming than other dogwood trees. With age it reaches 30 feet high and can look quite stately

Ninebark

Physocarpus opulifolius ′Seward′ Summer Wine®

Ninebark is a native, deciduous shrub that can grow to 10 feet tall and is very hardy. Mature branches have exfoliating bark that peels off to reveal a variety of colors underneath. The flowers bloom from May through June and are white with a hint of pale pink. 'Seward' is a dwarf selection that has purple summer foliage and a graceful arching habit. The shrub prefers full or partial shade and is tolerant of various soil types and will even tolerate drought.

Arkansas Amsonia

Amsonia hubrichtii

Amsonia hubrichtii was named "Perennial Plant of the Year" by the Perennial Plant Association in 2011. This species is truly distinctive and extraordinary, with clusters of powder-blue flowers in April and May. It grows to a height and width of 2 to 3 feet. In the fall, its golden-orange color rivals the best trees and shrubs. This clump-forming herbaceous perennial prefers full sun to partial shade and is native to the central and northeastern United States. Additionally, it is deer and disease resistant.

Hybrid Peony

Paeonia ′Julia Rose′

This hybrid peony is a cross between a tree and a herbaceous peony. Its beautiful, fragrant flowers can be seen now in our Peony Garden along with many other varieties.

American Wisteria

Wisteria frutescens ′Betty Matthews′ Summer Cascade™

Herbaceous Peony

Paeonia lactiflora ′Leslie Peck′

Woodland Sage

Salvia × sylvestris ′Caradonna′

Ashe Magnolia

Magnolia macrophylla var. ashei

Early Large-flowered Clematis

Clematis ′Will Goodwin′ (Early Large-flowered Group)

Ponticum Rhododendron

Rhododendron ponticum

Catmint

Nepeta racemosa ′Walker's Low′

Shrub Rose

Rosa ′Radtkopink′ Double Pink Knock Out®

Hybrid Cranesbill

Geranium ′Orion′

Coast Azalea

Rhododendron atlanticum

Oriental Poppy

Papaver orientale ′Prinzessin Victoria Louise′

Orchid

Bulbophyllum Yosemite Sam

Chinese Hibiscus

Hibiscus rosa-sinensis ′President′

Lollipop-plant

Pachystachys lutea

Pink Quill

Wallisia cyanea

Hybrid Peony

Paeonia ′Garden Treasure′

'Garden Treasure' is one of the hybrid peony varieties that can be seen in bloom now in the Peony Garden. Sometimes called intersectional or Itoh peonies, these beautiful plants are hybrid crosses between herbaceous and tree peonies. They have the leaf shape of tree peonies, but die back to the ground each winter like a herbaceous peony. The long lasting blossoms are lightly fragrant and come in some unique colors, like yellow, not seen in typical herbaceous peonies.