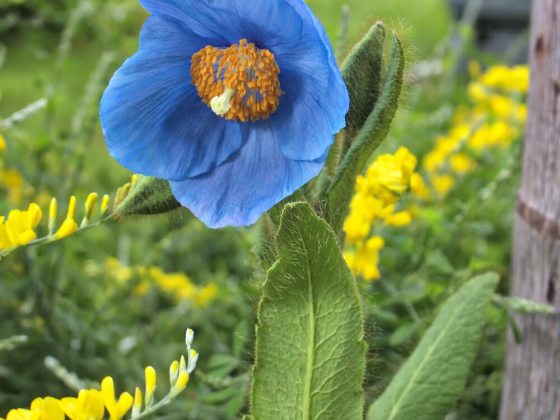 See what's in bloom … and enjoy the beauty of our Gardens.
to
Clivia

Clivia miniata ′Longwood Sunset′

With soft, pastel-colored flowers, Clivia miniata 'Longwood Sunset' is a color breakthrough for our 40-year-old clivia breeding program. The umbel displays impressive flowers, measuring between 4 and 5 inches across, above a collection of dark green leaves. Salmon tones imbue the reflexed, overlapping tepals with hues of a blushing sunset. These soft colors are emphasized by a contrasting, butter yellow and white throat. A small detail that truly makes this selection unique, though, is the thin, red-orange picotee margin that subtly outlines the tepals. This selection also appeals to the sense of smell as it opens with a light, pleasant fragrance.

Pride-of-Madeira

Echium candicans ′Select Blue′

Native to Madeira, a group of islands southwest of Portugal in the Atlantic Ocean, this tender subshrub is one of the stars of our early spring Conservatory display. Grown from cuttings, it takes a little more than a year to get a new cutting to the size of the plant you see on display.

Silver-squill

Ledebouria socialis

This beautiful, small, bulbous plant grows densely in groups and is suited to be grown in containers. Long, lance-shaped leaves, usually 2-3 inches, are a striking dark gray, with vivid green patches and a deep violet underside. Native to South Africa, silver-squill usually occurs in evergreen woodlands and thicket forests in river valleys. The spotted leaves enable the species to blend into its thicket environment. Florets are mainly greenish white with a flush of pink.

Glory-of-the-snow

Chionodoxa forbesii

Chionodoxa forbesii is in its glory in late March to early April as its upward facing, sky blue flowers begin to appear. It should be placed in a partially shaded location with well-drained soil. Because it seeds freely, glory-of-the-snow, is an excellent choice for naturalizing. Reaching 6 inches these flowers are growing on Oak Knoll, in the Hillside Garden, outside the Peirce-du Pont House and under the beeches south of the Main Fountain Garden.

Twinleaf Squill

Scilla bifolia 'Rosea'

This small, early spring bulb can be found dotting Oak Knoll, usually around the time Crocus tommasinianus begin to fade. Each Scilla bifolia 'Rosea' bulb produces two leaves which sit below a one-sided spike of pale-pink, star-shaped flowers and a 2-4 inch plant.

Madeira Cranesbill

Geranium maderense

Endemic to the island of Madeira, this cranesbill, the largest of the true geraniums, is critically endangered in the wild. Growing to 4 feet tall and wide, this plant produces numerous rosettes of small flowers which are held above the dissected foliage.




Cornelian-cherry

Cornus mas

Freesia

Freesia 'Peachy Queen'

Border Forsythia

Forsythia × intermedia ′Spring Glory′

Hellebore

Helleborus 'COSEH 4100' HGC Ice N' Roses Red

Calla-lily

Zantedeschia 'Accent'

Marguerite

Argyranthemum frutescens ′Supa742′ Meteor Red™

Hybrid Cineraria

Pericallis × hybrida 'Sunseneyona' Senetti Ruby Red® (Senetti Group)

Chinese Corydalis

Corydalis cheilanthifolia

Ornamental Onion

Allium ′Globemaster′

Winter-hazel

Corylopsis ′Winterthur′

Fuchsia

Fuchsia ′Traudchen Bonstedt′

Broom

Genista × spachiana

Blue-poppy

Meconopsis ′Lingholm′

Longwood Gardens forces blue-poppies to flower every year in March. This cultivar, 'Lingholm', produces large flowers that are four inches in diameter on average. Blue-poppies, native to the high elevations of the Himalayan Mountains, are infrequently cultivated outside their native habitat. Given the right conditions, however, they can thrive in gardens located in the northern regions of North America and Europe.