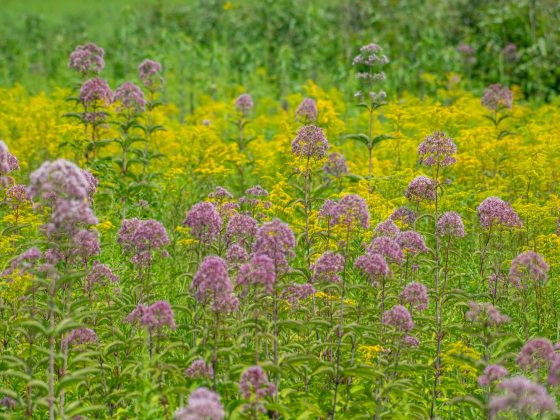 See what's in bloom … and enjoy the beauty of our Gardens.
to
Woodland Sunflower

Helianthus divaricatus

The name Helianthus comes from the Greek words helios, meaning "sun" and anthos, meaning "flower." They are known to turn their flower heads towards the sun throughout the day. As with other members of the aster family, sunflowers attract a host of pollinators in the late summer garden. In our Garden they are standing tall, blooming throughout September.

Rose Mallow

Hibiscus ′Blue River II′

'Blue River II' is a hardy, rose mallow hybrid with large flowers to 10 inches across that blooms from July to September. These flowers, which attract hummingbirds, are pure white, where as many rose mallow flowers have a deep red center. 'Blue River II' can grow to 5 feet tall and wide and performs best in moist soils and full sun. You may associate hibiscus with tropical plants, but within the parentage of this hybrid rose mallow are species of hibiscus native to the eastern United States.

Orchid

Phragmipedium Hanne Popow

Phragmipedium Hanne Popow was part of the first wave of hybrids from the popular species Phragmipedium besseae. It was registered in 1991. The parents (P. besseae and P. schlimii) are found at elevations of 3200-4900' on cliff and rock surfaces regularly fed by water in Columbia, Ecuador, and Peru. This small sized lithophyte or terrestrial has dark green strap leaves in a compact fan shape. It is a sequential bloomer on a 12-16" long inflorescence. Petals of the 2" flower are peachy-pink, equally spaced and in one plane. The pouch is the same color and has translucent windows on its sides.

Tall Tickseed

Coreopsis tripteris

Coreopsis tripteris is an upright perennial with strongly branched stems and grows from rhizomes. It grows naturally in sandy loamy soils, boggy meadows, woodland edges, fields, and along streams. It prefers full sun to part shade with moist to average well-drained soil. It has nice lemon yellow flowers, and the fact that it is long lived and easy to grow, make it an exceptional plant. Tall tickseed can be found growing natively in the southeastern and western portions of Pennsylvania.

Waterlily Dahlia

Dahlia ′Taratahi Ruby′

A member of the aster family, dahlias bloom from early August to frost, offering spectacular late season color. Dahlias can be grown in partial to full sun from tubers, which are planted in the spring, and come in many enticing sizes, shapes and hues. ′Taratahi Ruby′ is one of many spectacular dahlias along the Flower Garden Walk.

Franklinia

Franklinia alatamaha

Franklinia, or the Franklin tree is a small deciduous tree in the camellia family. It was first discovered by the Philadelphia based botanists John and William Bartram on the banks of the Alatamaha River in Georgia in 1765. William Bartram collected seed in 1773, and successfully cultivated the plant at the Bartram gardens in Philadelphia. Bartram named the new plant Franklinia alatamaha in honor of his father's friend Benjamin Franklin. It is a unique tree as it is the only species in its genus, and it is now extinct in the wild. The original stand of trees was restricted to a small area and the species went extinct soon after its discovery, with the last confirmed sighting recorded in 1803. The probable causes for its demise were increased activity associated with settlers; for example fires and land clearance. All known living specimens in cultivation today are descended from the seed collected by William Bartram. Interestingly, while the tree was discovered in Georgia, it performs well in more northern climates. It has therefore been hypothesized that the tree was pushed south during the last ice age, then stranded when the ice retreated. The trees that the Bartrams discovered might have been the last remnants of a once much larger population. The Franklin tree is available commercially and is prized in cultivation for both its story and its fragrant camellia-like flowers and red fall foliage.

Mandevilla

Mandevilla ′Alice du Pont′

Traced back to tropical and subtropical regions of Central and South America, Mandevilla hybrids are popular ornamentals cultivated in gardens around the world. Over one hundred species of Mandevilla are admired for their large, brightly colored and strikingly showy flowers. This Longwood introduction was named after our founder, Pierre S. du Pont's wife, Alice.

Big Bluestem

Andropogon gerardii

Formosa Lily

Lilium formosanum

Late Panicle Hydrangea

Hydrangea paniculata ′Tardiva′

Henckelia

Henckelia ′Moon Walker′

Hot-water-plant

Achimenes ′Desiree′

Persian-shield

Strobilanthes dyeriana

Ruby Grass

Melinis nerviglumis ′Savannah′

Hyacinth-bean

Lablab purpureus

Feather Reed Grass

Calamagrostis × acutiflora ′Karl Foerster′

Swan-plant

Gomphocarpus physocarpus

Deam's Coneflower

Rudbeckia fulgida var. deamii

Tufted Hair Grass

Deschampsia cespitosa

Kiss-Me-Over-the-Garden-Gate

Persicaria orientalis

Great Lobelia

Lobelia siphilitica

Scarlet Rose Mallow

Hibiscus coccineus

Chinese Anemone

Anemone tomentosa ′Robustissima′

Joe-Pye-weed and Goldenrod

Eutrochium spp. & Solidago spp.

The Meadow Garden features large swaths of blooming Joe-Pye-weed and goldenrod this time of year. These spectacular blooms are members of the Asteraceae or aster family, one of the largest families of flowering plants on the planet. Members of the Asteraceae have composite flower heads. These inflorescences (or groups of flowers) consist of many small flowers (florets) that together, resemble a single, larger flower.