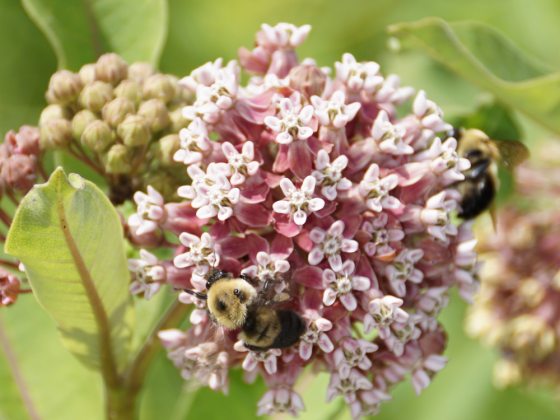 See what's in bloom … and enjoy the beauty of our Gardens.
to
Sweet-bay Magnolia

Magnolia virginiana ′Jim Wilson′ Moonglow®

Magnolia virginiana, commonly known as sweet-bay or swamp-bay magnolia, is an evergreen to partly evergreen tree native to the eastern United States. It grows 10-35 feet tall and blooms May through June, with white, fragrant flowers. Magnolia virginiana will grow in full sun or partial shade and in moist, organically rich soils, but will also tolerate wet boggy soils and pond margins. The cone-like fruits of this tree are bright red showy seed pods. The cultivar 'Jim Wilson' was selected for its fast growth, upright habit, cold hardiness, and lush dark-green foliage.

Smooth Hydrangea

Hydrangea arborescens ′Annabelle′

'Annabelle' is a selection of the native, deciduous, long-blooming smooth hydrangea. It grows three to five feet tall and has large white flower clusters can reach sizes of up to one foot across. 'Annabelle' requires moist, well-drained soil and prefers partial sun, but will tolerate full sun if provided with constant water and no periods of drought. New growth is required for blooming, so this hydrangea should be pruned back in late winter.

Prairie Rose

Rosa setigera

This native, climbing rose has fragrant, pink flowers from which bees collect pollen. The showy red fruit will attract wildlife and serve as a food source, especially for songbirds. Growing up to 15 feet with support, prairie rose can be used in shrub borders, rose gardens, native plant gardens or can grow to form a thicket, hedgerow or other informal barrier.

Highbush Blueberry

Vaccinium corymbosum

Vaccinium corymbosum, commonly known as highbush or swamp blueberry, is native to eastern and central North America and can grow 6-12 feet tall. After flowering in early spring, it produces blue to black berries in July through August which are sought after by humans and wildlife alike. It also provides excellent fall color, with leaf colors ranging from red to purple. It tolerates full sun to partial shade and prefers wet, highly acidic soil.

Japanese Hydrangea-vine

Schizophragma hydrangeoides ′Moonlight′

Japanese hydrangea-vine is a non-invasive vine that can grow to a height of 35 to 50 feet at maturity. It is a nice plant for climbing up walls, since it uses adhering rootlets as fasteners rather than mechanical support and will perform limited or no damage to masonry. The vine prefers dappled light but, can grow in partial to full shade. It blooms in June through July displaying creamy white, heart shaped brachts. The cultivar 'Moonlight' has foliage with a silver variegation and is hardy in USDA zones 5 to 9.

Orange Crossandra

Crossandra infundibuliformis ′Tropic Yellow Splash′

Egyptian Star-cluster

Pentas lanceolata ′PAS1096472′ Glitterati Purple Star™ (Glitterati Group)

Orchid

Prosthechea cochleata

Perennial Phlox

Phlox paniculata ′Dusterlohe′ Nicky

Lisianthus

Eustoma grandiflorum 'Voyage 2 Pink'

Longiflorum-Asiatic Lily

Lilium ′El Divo′

Common Banana

Musa × paradisiaca

Flat-leaved Eryngo

Eryngium planum ′Blue Glitter′

Peruvian-lily

Alstroemeria ′Koice'

Smooth Hydrangea

Hydrangea arborescens ′NCHA1′ Invincibelle Spirit®

Adam's-needle

Yucca filamentosa ′Color Guard′

Sundrops

Oenothera fruticosa

Late Large-flowered Clematis

Clematis ′Marcelina′ (Late Large-flowered Group)

Bear's-breeches

Acanthus balcanicus

Betony

Stachys officinalis ′Hummelo′

Common Milkweed

Asclepias syriaca

This week is National Pollinator Week, an annual event that celebrates pollinators, addresses the urgent issue of declining pollinator populations, and supports all we can do to protect them. Common milkweed blooms June into July in a range of colors from rose pink to deep purple. This native wildflower supports many pollinators including native bees and serves as a host plant to monarch butterfly larvae (caterpillars).