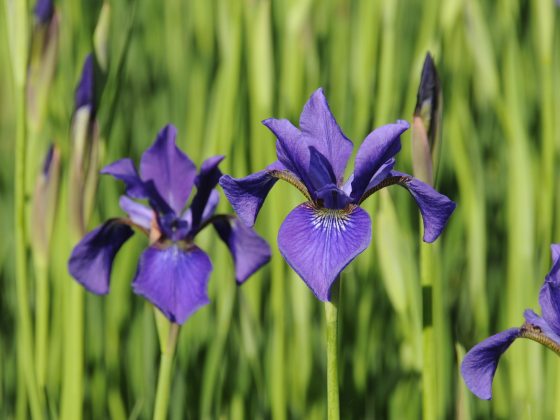 See what's in bloom … and enjoy the beauty of our Gardens.
to
Fringe-tree

Chionanthus virginicus

Fringe-tree is native to the eastern and central United States. It has lacy, white, fragrant flowers in May and early June. Growing only to 20 feet tall, fringe-tree is a great tree for small gardens or used as a woodland understory plant. This fairly adaptable tree does well in full sun to partial shade, and has reliable yellow fall foliage.

Carolina Allspice

Calycanthus floridus ′Michael Lindsey′

Carolina allspice is a native, deciduous shrub that grows to a height and width of approximately seven feet. Its reddish-brown flowers bloom in May and June and have an extremely spicy fragrance. Its glossy green spring and summer foliage turns a golden yellow in autumn. 'Michael Lindsey' has many benefits for the gardener, including disease and pest resistance and adaptability to many soils and all light conditions. It is hardy in zones 4 to 9.

Princess-tree

Paulownia tomentosa

This deciduous tree native to China, produces large, fragrant, panicles of lavender flowers in the spring. The wood of this fast growing tree is highly prized and used to make furniture and musical instruments. Japanese craftsmen prize princess-tree wood for making the koto, a six-foot long, stringed instrument that is the national instrument of Japan. Kotos create music when the strings that bridge across the hollow body of the instrument, are plucked. The unique sound is distinctively energetic and reflective because of the resonance of the princess-tree wood.

Canna

Canna ′Brandywine′

Longwood began breeding cannas in 1967, when it was realized that the cultivars available at that time were generally six feet or taller and not suitable for use on display. Between 1972 and 1985, twelve cultivars were selected for release, one being 'Brandywine' on display now in the Garden.



Cattleya gaskelliana

Cattleya gaskelliana

Ornamental Onion

Allium ′Globemaster′

Pink Quill

Wallisia cyanea

Wild Iris

Iris versicolor

Oconee Azalea

Rhododendron flammeum ′Harry's Speciosum′

Fuchsia

Fuchsia × hybrida ′Pour le Menneke′

Chinese Hibiscus

Hibiscus rosa-sinensis ′President′

Lollipop-plant

Pachystachys lutea

Sweet Iris

Iris pallida ′Variegata′

Reeve's Spiraea

Spiraea cantoniensis ′Lanceata′

Noble Hybrid Rhododendron

Rhododendron ′Cynthia′

Ohio Spiderwort

Tradescantia ohiensis

Drooping Leucothoe

Leucothoe fontanesiana

Guzmania

Guzmania ′Deborah′

Siberian Iris

Iris sibirica ′Pansy Purple′

Iris is a genus of about 300 species of herbaceous perennials native to northern Asia, North America, and eastern and central Europe. 'Pansy Purple', a Siberian iris hybrid, was introduced by New England hybridizer, Currier McEwen. It grows up to 28" tall and is easy to grow in full sun, with regular moisture and slightly acidic soil. Producing deep purple flowers from the middle of May to June, 'Pansy Purple' has grass-like foliage that adds a vertical element to the garden.